| | |
| --- | --- |
| Posted by THE SNAKE on May 8, 2012 at 4:35 PM | |
Been meaning to update here for a while ,but getting features on site seemed more important ,Anyway since the last blog, many new films have been reviewed on site with many more to come, April saw us attending the Terracotta Far East Film Festival in London ,they showcased some 16 films plus a triple bill horror night. We where there for seven screenings over 3 days, to see the lowdown on the show visit the sites dedicated event page on the event. Here.
Now with May upon us we are fast approaching the Birmingham Martial arts show, which last year was a great show offering seminars,live performances and Star interviews and photo's.
This year the show was set to be a lot bigger with the MMA section of the show being in a independent hall,as of Yesterday this part of the event has had to be cancelled due to unforeseen circumstances.
***Please be aware that the Martial Arts Show part of the event is still on,and that the MMA show is being rescheduled for October,please visit the official site whose link is located in the calender section of this site or their face book page.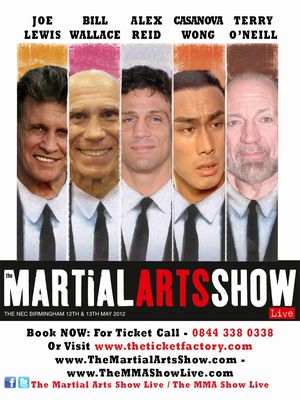 There's still a lot of stars and top flight performers appearing over the weekend ,so don't let it dampen your mood, Richard Norton and Don the Dragon Wilson had to pull out at the last moment  due to work commitments, Hopefully Kwoklyn can rearrange for them in a future show. That still leaves ,Joe Lewis,Bill Wallace,Silvio Simac,Cassonova Wong,Terry O'Niel and many more to fulfill your enjoyment.  Hope to see many there.
On another note ,Hyper Japan is set for a second outing this year in November ,being held on the 23rd to the 25th  the Christmas Hyper Japan should be a great event for all you Japanese Pop culture fans,plus after this Springs event which showcased some good martial arts as well it should once again fulfill your expectations.  But before then we have a few other events to cover .
New update after the Show at the weekend .
SERTES