| | |
| --- | --- |
| Posted by Bruno B on May 24, 2013 at 7:00 PM | |
Yes us gamers are a funny breed, it's probably the only type of consumer electronic that has a fan base like it does.
Gamers will pledge alegiance to a system as long as what there getting is what they expect.
But it seems after Tuesday's Xbox One reveal many where  not happy at Microsoft's new TV orientated ,Kinect driven system which requires a the Kinect linked all the time and a internet connection every 24 hours.
But  the bug bear has been the fee to play used games which has come about . Each new game installs on the system linking it to that console and the players ID .
Also the fact that the reveal actually revealed little about any new games of interest to Xbox gamers ,or any gamer for that matter.
This has seen the struggling Wii U sales  in the UK take a upturn since the annoucement ,but where not talking a few more sales .Amazon have reported that sales have increased a massive 386% , placing the Wii U in the top fifty sales list.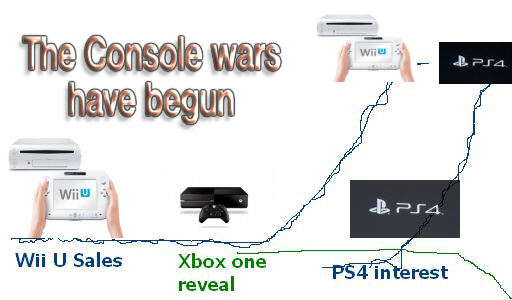 Interest in the PS4 has also increased with many social communities members announcing there intention to buy Sony's new machine .
Of course now E3 is around the corner ,it will be interesting to see what the three big boys have to say and reveal.
The wars have just begun
Bruno b.