| | |
| --- | --- |
| Posted by THE SNAKE on November 9, 2013 at 3:35 PM | |
We attended our second screening today of the festival at the Korean Cultural Center in London.
Held in their Multi Purpose hall we arrived just in time for the screening of Public Enemy Retunrs ,only to be confronted by a screening of the first film Public Enemy (which is supposed to be shown on Tuesday witha Director Q&A) , Now being i was sure i had seen Public Enemy i was eager to see this third film in the series even though not yet seen the sequel ''Another Public Enemy''.
To tell the truth i could not recall the film,but this is a film from 2002, arriving back home i have scoured my films only to find the DVD of Public Enemy ,i may have bought it ,but i could not  tell you if i have watched it before today , if not it's been sitting on my shelf   for more then five or six years at least unwatched.
It's funny as usually i remember films within a few minutes if i have seen them before. For the life of me i did not know what was coming next in the story.

Stranger things have happened ,all i know i enjoyed the film ,but now i need to see the sequel and the third to satisfy my cravings for more from this maverick cop .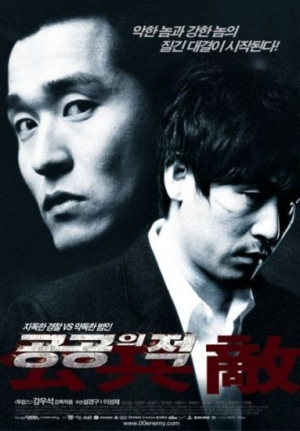 A good film ,which we own in our archives on DVD,but we didn't mnd watching again and it was a free screening. And there's nothing like watching with a group of fans .