We have had a busy week attending the London Korean Film Festival , for the past three days we have seen three very different and entertaining films in the heart of London's West End.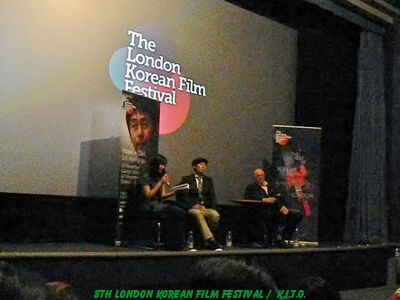 Interpreter  Sah (left) Actor Sol Kyung -Gu( centre) Tony Ryans ( right)

Wednesday  we where at the Screenng of HOPE aka So Won ,the latest film from director Lee Joon-ik . The films stars Sol Kyung -Gu ( Public Enemy ) as the father of Hope a young girl who goes through a life changing ordeal that will test the will of her self and her parents. We where also lucky to have actor Sol Kyung-Gu on stage after the film for a Q+A.
Thursday we where back and this time with a introduction by  Oh Dong-Jin (Korean Film critic) and Director Kang Woo Suk and actor Yoon Je -Moon for the screening of Fists of Legend ,the first film from Korea which focuses on the Mixed Martial arts scene ,but  the story is quite complex and far from being just another action fodder piece it follows the lives of a group of high school students who in their day where great at fighting whether it be proffessional or just from being a tough guy on the streets. When a producer decides to create a reality TV show where these former students will go head to head in battle to be the best ,even though they are all in the forties and have had a tough life.
Action mixed with a profound story ,Fists of Legend is not just a fight flick

Friday saw us at the closing gala for Boomerang Family a feel good film about a disfunctional family who even though spanning generations have failed to grow up and still act like children around each other.  For most part it's a light hearted film which often had many elements everyday people from all walks of life can relate to.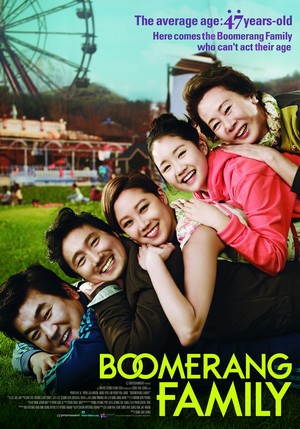 Again it was great night with the Director Song Hae Sung and actor and actress Yoon Je-Moon and YounYuh-Jung inattendence with film crirtc Tony Rayns hosting .
The producer was also in the audience along with the ambassador for South Korea and the directors of the London Korean Cultural Centre also present.
A  Q+A tool place after the film revealing some secrets to filming the film,which was very entertaining.
A full festival feature along with reviews for all the films we viewed will be up on site in a few days.
Meanwhile the festival goes on tour till the 22nd of November ,with films showing in Oxford,Leeds,St Andrews and Bradford. So if your in those areas you can still catch some Korean entertainmnt on the big screen.