Hyper Japan is back in London Town and we where there on the opening day on Friday 25th at London's Earls Court.
This year the Hyper Japan team have taken over the larger hall at Earls Court one, added a number of dedicated stages apart from the main stage and though the Friday is never filled to capacity it looks like the bigger venue may hold up well when the weekend crowds arrive on Saturday and Sunday.
Today we where still treated to some great acts on stage and it gave us time to browse the stalls and even get some play time on Nintendo's and Bandai Namco's stand..
Real Life Ninja Warrior Hiroki appeared on stage today (he's back Saturday/Sunday)  and delivered a heart pounding perfomance.. as well as holding a small workshop for all those who wish to learn his training techniques with the aid of a Towel. I suppose you can't give visitors Nunchucks ,we would have people knocked out on the floor as they hit themselves ,
a towel in your face won't render you unconsious .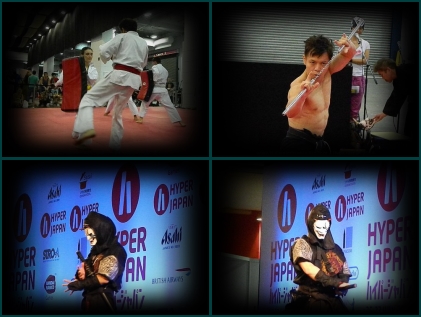 Karate and Ninja Hiroki performs on stage on Friday

He's back both Saturday and Sunday and the workshops are short and free ,you just have sign a disclaimer that you can exert yourself .. because they don't want people actually keeling over from just  hitting themselves with a towel.
There where a couple of other Martial art displays on the Martial arts Tatami ,Karate and Battado Samurai swordmanship.

Workshops,Bonsai  and Ninjas , all at Hyper Japan 2014

They even had another art form on display ,the art of the Bonsai tree , with a huge range of Bonsai to view and Buy.
The Bonsai Kai Club are  passionette about their art ,but the arts council won't recognise it as a art and so they get no funding.. . Well I'm sorry Arts Council ,Bonsai ia art form that's been around for century's . Compared to some of the things they throw money at ..Bonsai is a art that teaches care ,Paitence through how one sees ones self.  Something we could all learn from..

For more info visit www.bonsaikai.org.uk
We had JPOP to close the show from Jpop duo Yanakiku and Saturday where back to  indulge in entertainment and view other arts and hopefully get loads of pictures for you all to see.
Check back tomorrow for another mini update before our fully fledged feature goes live..
Sertes Nake ..