Yes we know we wanted to update this the other day, but we where not to know getting back from Hyper Japan that our internet connection would be slower then a dead snail. we just could not do anything creative.
So here it is the final teaser of Hyper Japan 2014 before we publish our full feature on site.
Saturday saw another hot day and we got there early to get some gaming in and we had to see Hiroki Ninja perform again as we where amazed at his feats. Plus it gave us a chance to get some alternative pictures of the show.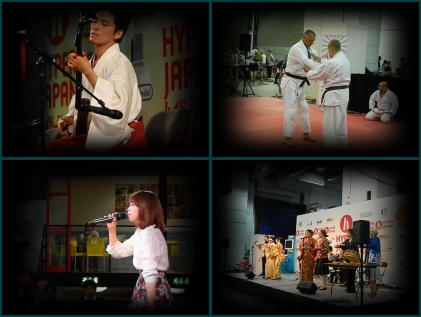 Tradditonal music and dance  was in full swing to with the re-appearence of Minyo group last year consisting of Hibiki Ichikawa,Akari Mochizuki and the  London Okinawa Sanshinkai  and they gave various performances through out the weekend on the Main,Fringe and Martial arts stages.
Saturday also saw the Martial arts stage at it's busiest with demonstrations of Karate,Iaido,Kendo and Jiujitsu among the performers.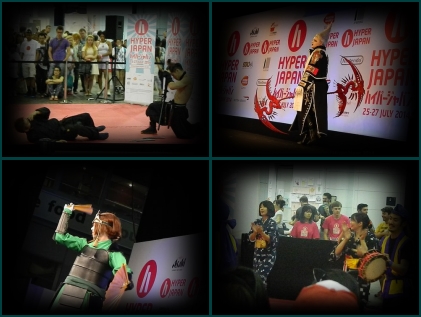 Cosplay was also more evident on Saturday ,with many in costume and more so in the afternoon session as the cosparade was on the main stage in the afternoon.
Fans of more modern music where not left out either with Jpop and Jrock stars appearing to get the crowds bopping along. While they partook in Japanese delicacies  and tradditional drinking in the form of Sake as well as the many Japanese beers to buy to.
From browsing the stalls to visiting the pandemonium which was the Nintendo stand for some gaming action.
Hyper Japan is back in November on the 14th to the 16th at Olympia for the Hyper Japan Christmas Market , where be there to get in on the action , but that about wraps up our teaser for Hyper Japan 2014 .
Our full site feature will be up in a few days ,once we recall all our shenanigans of the three days and we sift through all the photos we took,sorting the good from the bad and what will go where..
But for now .Be Safe,Train Hard and most all ,  of have Fun.
The Snake