| | |
| --- | --- |
| Posted by THE SNAKE on September 4, 2014 at 7:35 PM | |
Hi all,
It's not long till the Strength and Combat show incorperating Seni 2014, this means also it's not long  till Eastern Heroes hold there Hwang Jung Lee and Bruce Lee weekend at the show.
So if you have not yet purchased  your ticket i suggest your quick about it as this is one event not to miss, Also Attending is Ninja/ Undisputed star Scott Adkins who will be on the Eastern  Heroes stand for autographs and photos as well.
Now we have been busy working on some new features and reviews of late , and one feature to appear in just a few short days is a look back at the Kung Fu filmscene in London back in the 80's and 90's . This was a time when Eastern Heroes,Beymark International,Shaolin Club and a few others including the official Jackie Chan club brought fans the films and the events that we craved .
If you where one of the attendees to any of the events at the now defunct Scala cinema,the Metro cinema or the Prince Charles Cinema in Liecester Square ( which has become the go to place for these films now) then your be taken back in our site feature of those days.
The films may be more at hand and obtainable now from one source or another ,but nothing can replicate the days of those cinema's and the VHS tape era that we all where a part of.
I will post a update  here when our feature is up ,won't be long ,be before the show on the 13th and 14th.So maybe I'll meet a few old timers who frequented those events back then.
But to get your juices flowing ,who remembers this ---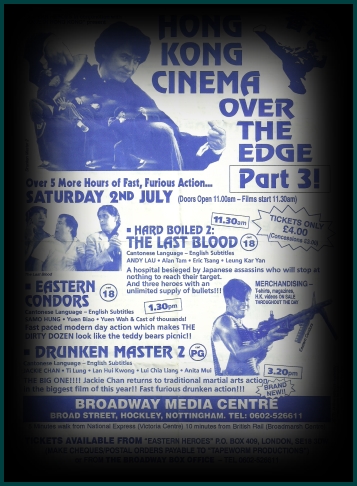 All the way to Nottingham and back just to see Drunken Master 2 at the cinema, yep i done that
Sertes Nake