| | |
| --- | --- |
| Posted by Bruno B on April 22, 2015 at 2:25 PM | |
With the advertsing train well under way for Nintendos forthcoming shooter Splatoon ,Nintendo have announced Wii U bundles for Europe and North America .
Both Bundles contain a 32gb Wii U deluxe pack and the new shooter Splatoon.
The big Difference is that the USA/North American version includes a copy of Nintendo Land preinstalled on the unit and a Digital code for a download of Splatoon which we are told comes in at around 2GB.  So not a huge chunk of space ,
The USA/North American bundle launches the same day as the game .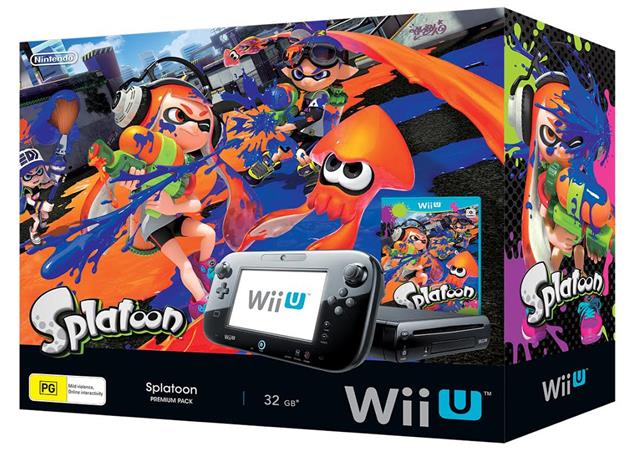 Genre defining shooter from Nintendo out end of May / Australian Bundle pictured

For Europe /UK/Australia it's abit different. For one there is NO Nintendo Land icluded. Second your actually receive a Physicall copy of the Splatoon game. The downside to this is that the bundle launches some three weeks after the launch of the game.
We can only presume this is to make sure there is not a shortage of individual Copies of Splatoon for existing Wii U owners, as the game is proving popular especaially with the amiibo support with amiibo packs selling out already in some instances.
All region Bundles will share similar artwork and we must say it's quite eye catching package . But i do believe any gamers wanting to pick up a Wii U to play Splatoon are not going to wait three weeks in Europe to get hold of a Splatoon bundle..
As of yet the prices for the Splatoon bundle has not been announced .
Bruno B.